Now Offering Semaglutide
What is semaglutide?
Semaglutide, sold under the brand names Ozempic, Wegovy and Rybelsus, is an antidiabetic medication used for the treatment of type 2 diabetes. It has also been approved by the FDA for weight loss indicated for patients with BMI of 27 with one chronic medical condition or > 30. Semaglutide weight loss works by increasing the amount of insulin produced by the pancreas and decreasing the amount of glucagon produced by the liver. This combination results in reduced hunger and increased energy levels, leading to weight loss.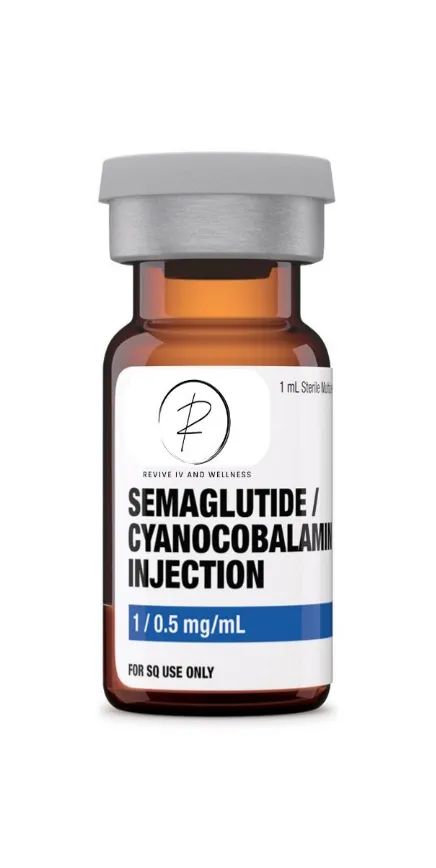 What our 6-12 month program includes-
1st month- $525 (includes consultation and meds)
$450 every month there after until you reach maintenance.
Our Weight Loss program is an all-in-one comprehensive Weight Loss option for those needing more than just injections. This program includes a 1 month Semaglutide/B12 injection homekit, recommendations on eating habits and exercise, and weekly follow up with a nurse to go over your progress (by request). You will also get discounts on vitamin injections and infusions.
Provider Consultation-
Semaglutide/B12 Weight Loss Injection Homekit- includes 1 month (4 injections)
Recommendations for at home exercise
Nutritional Recommendations for better results
Bi-Weekly follow up with an RN for weigh-ins
Get started today!
Consultation. A certified medical provider will review your BMI, health history, review your labs (must be completed prior to consult), and craft your weight loss plan with prescription medication.
Get medication. Once you are approved and a plan is in place, we will order your medication and have it sent to our office for education on administration.
Lose weight. Come in for weekly visits to see your progress and to check in with your nurse, if you wish.
If you would like more information regarding Semaglutide or to see if you are a candidate, give us a call at (406) 591-5667.
Frequently Asked Questions
When and how do I get my medications?
We have partnered with a compounding pharmacy that will prepare your semaglutide with a cyanocobalamin and ship to our office. We will than call you to come in for administration education. The delivery time is ranging 1 – 2 weeks.
Who qualifies for Semaglutide?
indicated for patients with BMI of 27 with one chronic medical condition or BMI> 30.
How frequently do I take the medication?
It is a once weekly injection.
Are there any contraindications to taking the medication?
Patients should be aware of the following contraindications. If either of these conditions have been recorded in either your personal history or your family history, you should avoid taking Semaglutide:Medullary thyroid carcinoma
Multiple Endocrine Neoplasia syndrome type 2
What are the side effects of semaglutide?
Nausea
Vomiting
Diarrhea
Abdominal pain
Constipation
There are also less-common side effects, such as allergic reactions, kidney problems, and low blood sugar. Also, in people with heart problems, it can damage the retina of the eye in some cases. Talk to your doctor before beginning a Semaglutide regimen.